Briana MacCabe and Nikolaos Phaistos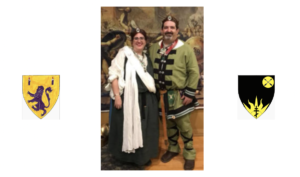 Altavia's 8th Baron and Baroness

Persona:
Niko is a 15th Century Greek Archer from the island of Crete. He could not find work on the island, so he took a merchant ship to Venice. There he began to learn the art of the rapier. After winning some notoriety as an archer, he was hired by the Medici family. His last job was to hunt down their wayward daughter, Cecilia de Medici, and bring her back.
Briana was born in West Breifne, Ireland, in 1564. Her father, Michael, was bard and poet to Brian O'Rourke, the chieftain of West Breifne, and Briana followed in her father's footsteps. After the recent troubles the O'Rourkes ran into with the English, Briana wisely removed herself to her adopted homeland of Caid and is working on making a name as a bard in the Crescent kingdom.
Her motto is "Seirbhís. Ceol. Croí."     This is Irish Gaelic for "Service. Music. Heart."
Colors:
Niko: Black and Gold
Briana: Gold and Purple
Fabric preferences:
Niko: Linen and cotton (needs to breath)
Briana: Linens, silks, and brocades
Food preferences:
Niko: Loves bread and sweets!! All meats and cheeses. Most vegetables except Arugula, Kale, and other exotic dishes. Water, apple juice, Gatorade, but nothing citrus.
Briana: Her Excellency would prefer not to receive personal food gifts at this time.
Allergies:
Niko – None
Briana – Sulfa drugs
Gifts wishes:
Niko: Help with garb, both for the Barony's newcomers and myself. Something that makes people smile…
Briana: Assistance with garb and largesse. Bardic performances of all kinds…with Shakespeare being a huge personal preference. Particularly partial to all things peacock!
Regalia Wishes:
To be determined
Here follows an accounting of the persona history, skills, offices, and awards of the
Honorable Lord and Lady Nikolaos Phaistos and Briana MacCabe