Welcome to Altavia
A Barony in the Kingdom of Caid, in the Society for Creative Anachronism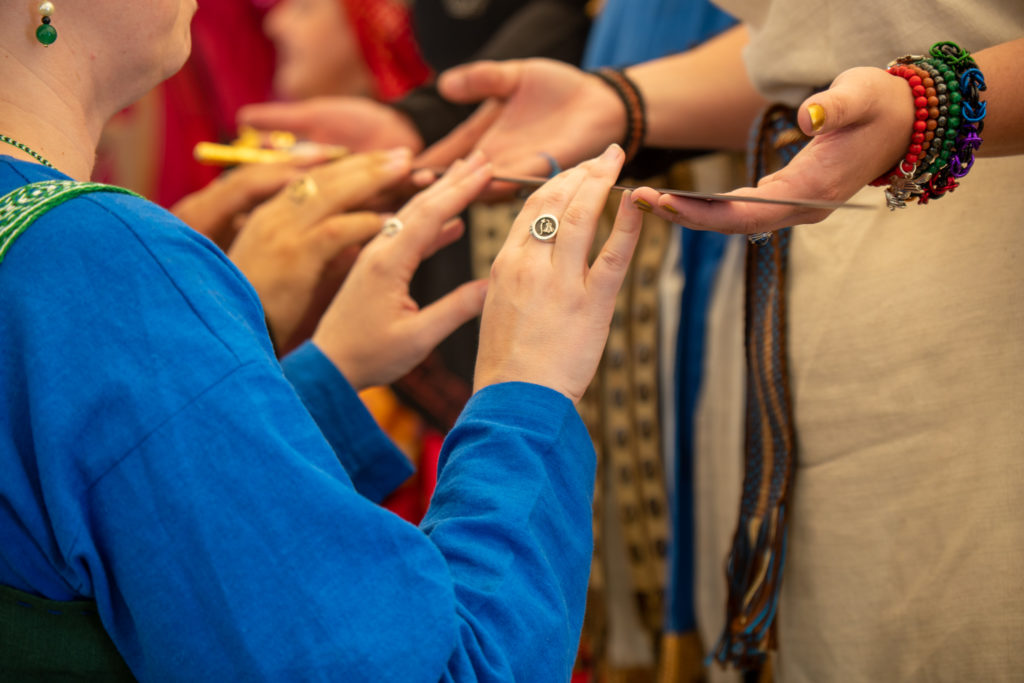 On May 13, 2023 Altavia's 9th Baron and Baroness

were invested.
Long live Baron Griffith Von Bremen and Baroness

Amabel Radleigh!
Long live Altavia! Long live Caid!
---


Baron Giffith Von Bremen and Baroness Amabel Radleigh
The Barony of Altavia is a local chapter of the Society for Creative Anachronism (SCA), an international organization dedicated to researching and re-creating the arts, skills, and traditions of pre-17th-century Europe. The Barony of Altavia includes the San Fernando Valley, Santa Clarita Valley, and Malibu, and is part of the Kingdom of Caid which includes Southern California, Greater Las Vegas Area, and Hawaii.
Members of the SCA study and take part in a variety of activities, including combat, archery, equestrian activities, costuming, cooking, metalwork, woodworking, music, dance, calligraphy, fiber arts, and much more. If it was done in the Middle Ages or Renaissance, odds are you'll find someone in the SCA interested in recreating it. What makes the SCA different from a Humanities 101 class is the active participation in the learning process. To learn about the clothing of the period, you research it, then sew and wear it yourself. To learn about combat, you put on armor (which you may have built yourself) and learn how to defeat your opponent. To learn brewing, you make (and sample!) your own wines, meads and beers. You will frequently hear SCA participants describe the SCA as recreating the Middle Ages "as they ought to have been." In some ways this is true – we choose to use indoor plumbing, heated halls, and sewing machines. In the dead of winter we have more to eat than King's venison, salt pork and dried tubers. However, a better description is that we selectively recreate the culture, choosing elements of the culture that interest and attract us.
Altavia News From Their Excellencies
May 2023
Greetings, Altavia!
Well, it is May and a very special time for the SCA and for our barony in particular. This month we celebrate not only the 57th birthday of this game we all hold so dear but also the 40th birthday of the wonderful lands of Altavia! There is also more to celebrate this year…but we'll come to that in a moment.
The last month saw His Excellency and I, as well as many Altavians, traveling to events around the kingdom. His Excellency made a solo trek out to Starkhafn Anniversary and then came right back so we could both attend Robin Hood Archery and Thrown Weapons tournament at Woodley Park. Angels announced their new heirs; and several of us made a little spot for some music under the trees while shooting and throwing was going on. Last weekend, His Excellency and I, along with our stalwart Altavians, Captain Cassandra and Eadric, headed up to Darach Anniversary. It was a lovely day with lovely weather and Baron Niko came out on top for the rapier tournament. There was some really great fighting from both him and our honorary Altavians, Ceallach and Saife!
So that catches us up to this week…which is a big one in Altavia. We'll be talking about last minute plans for this Saturday's Anniversary events in a few minutes, but His Excellency and I wanted to put down in writing what you've been hearing from us this week and will continue to hear from us until they get the shepherd's crook and yank us off the stage on Saturday morning 😉
So…Thank you, Altavia, from the bottom of our hearts.
Thank you for your faith in us, for your hard work, for your smiles, for sharing your ups and downs with us.
For sticking with us and with the Barony through both thick and thin (and there was a lot of both these last 5 years!)
Like Niko said last night, we were merely the cruise directors, making sure everyone had what they needed to enjoy our hobby to its fullest. It was you, all of you, that put in your ideas, your heart, your backs, and your souls into this game to make it work and to make Altavia the fun-loving land of Theater, Not Drama, that we are known to be throughout the Kingdom, and the Knowne World.
We truly hope that we are leaving Altavia in a better place than when we found it (though our baronial predecessors were all tough acts to follow!) and we know we are leaving it in good hands with Griffith and Amabel. Please continue to support them as they take the baronial thrones and lead us all into the future.
"And remember, fair Altavia, should you need us…yes, should you need us…"
We remain…
Always Yours in Service to the Dream,
Baron Nikolaos Phaistos
Baroness Briana MacCabe