Welcome to Altavia
A Barony in the Kingdom of Caid, in the Society for Creative Anachronism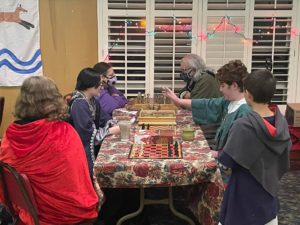 THL Griffith Von Bremen RRE & THL Amabel Radleigh
They will step up as Altavia's 9th Baron and Baroness on May 13, 2023
---


Baron Nikolaos Phaistos and Baroness Briana MacCabe
The Barony of Altavia is a local chapter of the Society for Creative Anachronism (SCA), an international organization dedicated to researching and re-creating the arts, skills, and traditions of pre-17th-century Europe. The Barony of Altavia includes the San Fernando Valley, Santa Clarita Valley, and Malibu, and is part of the Kingdom of Caid which includes Southern California, Greater Las Vegas Area, and Hawaii.
Members of the SCA study and take part in a variety of activities, including combat, archery, equestrian activities, costuming, cooking, metalwork, woodworking, music, dance, calligraphy, fiber arts, and much more. If it was done in the Middle Ages or Renaissance, odds are you'll find someone in the SCA interested in recreating it. What makes the SCA different from a Humanities 101 class is the active participation in the learning process. To learn about the clothing of the period, you research it, then sew and wear it yourself. To learn about combat, you put on armor (which you may have built yourself) and learn how to defeat your opponent. To learn brewing, you make (and sample!) your own wines, meads and beers. You will frequently hear SCA participants describe the SCA as recreating the Middle Ages "as they ought to have been." In some ways this is true – we choose to use indoor plumbing, heated halls, and sewing machines. In the dead of winter we have more to eat than King's venison, salt pork and dried tubers. However, a better description is that we selectively recreate the culture, choosing elements of the culture that interest and attract us.
Altavia News From Their Excellencies
March 2023
Greetings, Altavia!
As I write this note, the heavens are once again raining down on our fair lands. It has been a damp month, but our spirits are as high as ever, and there is lots going on here in Altavia and in Caid.
While Calafia-Gyldenholt Friendship tourney was unfortunately rained out (as was pretty much everything that weekend in our area), the following weekend was a lovely double event weekend. First up was a truly stellar Crown in Angels! Congratulations to all combatants, especially Altavia's own Faelan, for wonderfully clean and well-communicated tournament, and thank you to Cassandra, Monique, Cecilia, Christof, Lord and Lady Altavia, Meliora, Matlens, and many, many more who joined us in the dragonwing for a lovely day! The finals were a nail biter between Sir Valentine and Duke Skalla with some really spectacular fighting. Congratulations to Their Royal Highnesses, Skalla and Lorissa. If you would like to serve on court for their upcoming reign, please reach out to His Excellency or I and we'll put you in contact with the right people.
Sunday was a slightly soggy Consort's Champion Archery Thrown Weapons here in Altavia at Woodley archery range. While a smaller event, Cecilia did a wonderful job running the event and arranging a fun and challenging tournament on the archery side, with Lord Conall running things on the thrown weapons side. Her Majesty seemed to enjoy the flock of ducks that showed up for her and even took to the field to shoot a crossbow bolt or two. Thank you to all who helped us run a smooth event, especially List Mistress, Tezar, and finish up quickly so Her Majesty could get back on the road before the snows hit the Grapevine. Congratulations to Miguel, Her Majesty's new archery champion and Conall, her thrown weapons champion!
Last weekend while I was under the weather, His Excellency headed out to Dreibergen for the brand-new Academia Draconis. He'll have to give all of the details on this event but from everything I read and all the pictures I've seen, it sounds like it was an amazing event and I look forward to attending it in the future.
From Baron Niko: Academica Draconis was truly wonderful. The classes, fighting and revelry were top notch. What I most appreciated is the time I had with a couple of new Altavians who took the time to sit and talk with me in the tavern. Thank you for the company, smiles and waves. I believe Joana was one of their names and I can't remember the other. The old Baron has never been good with remembering names the first (hundred) time I am introduced. We hope to see you more at practice and events.
The next few months will be busy here as we get Lord and Lady Altavia, Grif and Amabel, ready to step up at Anniversary. There's lots to do but we know that Altavia will rise to the occasion. Let's all pitch in to make sure we throw a party full of Theater not Drama!
Until next month, love always…
Yours in Service to the Dream,
Baron Nikolaos Phaistos
Baroness Briana MacCabe