Welcome to Altavia
A Barony in the Kingdom of Caid, in the Society for Creative Anachronism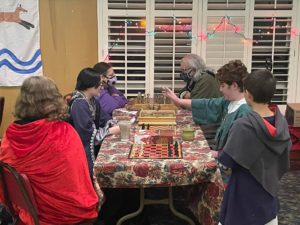 THL Griffith Von Bremen RRE & THL Amabel Radleigh
They will step up as Altavia's 9th Baron and Baroness on May 13, 2023
---


Baron Nikolaos Phaistos and Baroness Briana MacCabe
The Barony of Altavia is a local chapter of the Society for Creative Anachronism (SCA), an international organization dedicated to researching and re-creating the arts, skills, and traditions of pre-17th-century Europe. The Barony of Altavia includes the San Fernando Valley, Santa Clarita Valley, and Malibu, and is part of the Kingdom of Caid which includes Southern California, Greater Las Vegas Area, and Hawaii.
Members of the SCA study and take part in a variety of activities, including combat, archery, equestrian activities, costuming, cooking, metalwork, woodworking, music, dance, calligraphy, fiber arts, and much more. If it was done in the Middle Ages or Renaissance, odds are you'll find someone in the SCA interested in recreating it. What makes the SCA different from a Humanities 101 class is the active participation in the learning process. To learn about the clothing of the period, you research it, then sew and wear it yourself. To learn about combat, you put on armor (which you may have built yourself) and learn how to defeat your opponent. To learn brewing, you make (and sample!) your own wines, meads and beers. You will frequently hear SCA participants describe the SCA as recreating the Middle Ages "as they ought to have been." In some ways this is true – we choose to use indoor plumbing, heated halls, and sewing machines. In the dead of winter we have more to eat than King's venison, salt pork and dried tubers. However, a better description is that we selectively recreate the culture, choosing elements of the culture that interest and attract us.
Altavia News From Their Excellencies
January 2022
Greetings, Altavia!
Welcome to the New Year! We hope that you all had a lovely holiday season full of fun times with the people that you love.
It has been quiet, event and practice-wise, since our last missive. With the holidays and much-needed rain hitting southern California, we have only had one fighter practice since the beginning of December 🙁 Many thanks to Sibylla for arranging and encouraging alternate hangouts on Discord during fighter practice time the past two weeks and to those that have joined the hangouts. It's certainly not the same as getting out there and practicing but it's a great spirit-lifter when "recess" gets cancelled for weather.
This past weekend was the Coronation of King Optimus and Queen Issa and Caid's bi-annual Privy Council, and they were both full of important pageantry, conversations, and, at the end of the day, much love for the Kingdom we play in and the Game we play. Thank you to everyone who contributed to the bountiful largesse and amazing gifts we presented to their Outgoing and Incoming Majesties and thank you to all who processed in with us. As always, Master Colwyn creatively announced Altavia's presence and entertained the assembled crowd. A highlight of the day was the beautiful and theatrical exit of their then Majesties and now Graces Adam and Staeina on amazingly decorated and kitted out Viking ships; more theater like this please! And, of course, many thanks and deepest gratitude to Duke Adam and Duchess Staeina for their calm and thoughtful leadership throughout their reign!
Many congratulations, also, to Altavia's own Master Laertes who stepped up as Kingdom Seneschal during Saturday's Coronation! He takes over from Sir Tiberius Finn who masterfully guided Caid through some of the darkest times. Thank you, Sir Tiberius, for your tireless service to the Kingdom of Caid and enjoy your well-earned break.
On Sunday, His Excellency and I attended Privy Council, skillfully run by our new Kingdom Seneschal, where many important and weighty subjects were discussed. A large part of the conversation was around officer burnout, recruiting, and how we can all help each other make sure our territories have what they need to keep going strong. If you have any ideas on how we can partner with other baronies and shires on events, demos, or other efforts, please bring them forward…no idea is too big or too small to be discussed. At the end of the meeting there was a difficult discussion around the investigative process in the SCA and what can be done during this process to help members of the populace that may not feel safe attending events.
While we don't need to go into details here, we know there were many things that took place this weekend and leading up to this weekend that you may want to discuss further. Please know that His Excellency and I are always here to listen, to bring your concerns forward when needed, and to help you work on any solutions you might want to propose. At the end of the day, though we may have different opinions on many things, we ALL love this family we call the SCA and want to make sure it is a fun, safe, and inclusive space for all for years to come.
Yours in Service to the Dream,
Baron Nikolaos Phaistos
Baroness Briana MacCabe