ALTAVIA EQUESTRIAN
Equestrian Practices are held monthly on a Sunday at noon to three at Swanhill Farms*  8500 Waters Road Moorpark, Ca 93021. Usually this is the third Sunday of the month, but check the email list or contact the Equestrian Marshal to confirm.
SITE INFO
Swanhill Farms* 8500 Waters Road Moorpark, Ca 93021
Take your best route to the CA 118/E. Los Angeles Ave. and turn onto Balcom Canyon Rd (there will be only one way you can turn regardless of which way you're heading.)
In about 1.5 miles, turn right onto Stockton Rd. Follow Stockton for about 2 miles and turn left on Waters Rd.
The ranch is actually at the very end of Waters road. (Be aware Google maps and a lot of GPS units put 8500 a block early.)
The pavement will end and you'll proceed on the dirt road into the ranch parking area.
After parking, head up the dirt road to the left up the hill, past the dressage arena (it's lined with cones that have letters on them) to the large arena at the top of the hill.
If you are hauling in horses, you may continue to the left up the hill to the arena for drop off. Be careful, as the road can be rutted, particularly after a rain. Unfortunately, there is otherwise NO parking at the arena (there is, however a tie rail).
PRACTICE INFO
Open to any participants regardless of territory of residence.
Rider must bring their own mounts.
Unmounted ground crew training available.
AUTHORIZATIONS AVAILABLE
Jousting, mounted combat, crest combat, mounted games, marshalette/marshalette-in-training, and general riding
authorizations available on site.
General driving and driving games authorizations available subject to prior coordination.
Mounted archery authorizations available offsite.
Riders are advised to bring their normal tack and equipment. No rental horses are available.
Minors must have a parent or guardian present at all times.
EQUESTRIAN PRACTICE SCHEDULE
All practices run from 12 noon to 3pm unless stated otherwise.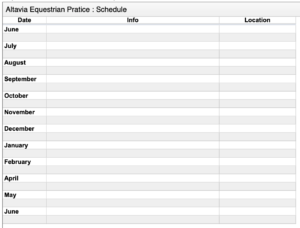 CONTACT INFO
For Practice/Trail Ride information contact our Equestrian Marshal.
Join the Altavian Equestrian Email group*
Visit the CAID Equestrian site